Truck Accident Lawyer in Santa Clarita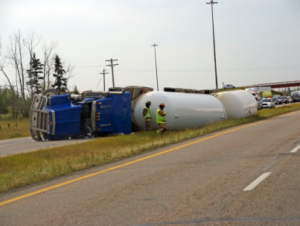 Did you suffer injuries in a truck accident in Santa Clarita? If so, you may have the right to hold the driver or trucking company liable for the harm you suffered. However, truck accident claims are high-stakes cases, meaning the insurance company(s) will likely dispute even the most valid claims. Getting guidance from an experienced truck accident attorney can help you through this difficult time. 
At the Law Offices of Pius Joseph, we fight aggressively against stubborn insurers who refuse to pay accident victims the compensation they deserve. Contact us today for a free consultation.  
What Should I Do if I Get in A Truck Accident in Santa Clarita?
After a Santa Clarita truck accident, you can immediately start protecting your rights to file a personal injury claim against the responsible party(s). Follow these tips:    
Contact law enforcement to report the semi-truck crash.

Remember to request a copy of the police accident report, usually available within one week of the collision.

Seek immediate medical attention.

If you didn't need emergency treatment at the crash site, get your doctor to examine you for injuries. 

Follow your doctor's treatment plan.

Your ability to recover full compensation depends on many factors, including how closely you followed your doctor's orders. 

Request copies of your medical records.

All accident-related medical records will be crucial evidence in your truck accident case. 

Keep any bills, invoices, or receipts of expenses from the crash.

Gather your income statements or pay records if you miss work or have reduced earnings during your recovery.

Contact a truck accident attorney in California as soon as possible.

Truck companies often send their insurance adjusters to the accident scene before you even have a chance to get medical treatment. Hiring a lawyer promptly can limit their advantages.

 
Common Causes of Truck Accidents
Many truck accidents in Santa Clarita occur due to negligence by a truck driver or trucking company. Common causes of truck accidents include:
Speeding

Tailgating

Running red lights or stop signs

Unsafe turns or lane changes

Failing to check mirrors or use turn signals

Distracted driving

Drowsy/fatigued driving

Driving under the influence of alcohol or drugs

Inadequate truck maintenance

Unsafe cargo loading

Unsecured or overweight loads
Common Truck Accident Injuries
In a collision between a truck and a passenger car, the car's occupants almost always suffer the worst injuries. Examples include: 
Cuts and lacerations

Broken bones

Soft-tissue injuries

Neck injuries

Back and spinal cord injuries

Traumatic brain injury (TBI) 

Internal organ injuries and internal bleeding

Amputation

Burns

Scarring and disfigurement
What Types of Compensation Can I Receive After a Truck Crash?
Financial relief in your truck accident claim may include money for:
Medical treatment 

Rehabilitation

Costs of long-term care for accident-related disabilities 

Lost wages and reduced earning potential

Vehicle repair or replacement

Pain and suffering

Reduced quality of life 
Most truck accident claims can be resolved in settlements with the insurance company. If they refuse to make a fair payout, an experienced attorney can file a California truck accident lawsuit demanding the compensation you are owed.
Get Help from a Truck Accident Lawyer in Santa Clarita
Numerous parties could be liable after a truck accident, and you can pursue compensation if their negligence contributed to your injuries. A trusted truck accident attorney from the Law Offices of Pius Joseph will identify every responsible party and demand money from each of them. Call or contact us today for a free consultation.