Truck Accident Lawyer in Ontario, California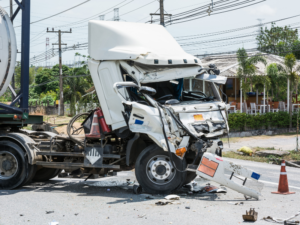 A truck accident can turn your life upside down in an instant. If you suffer severe injuries in a truck crash in California, you may be able to file a legal claim and recover compensation from a liable truck driver,  trucking company, or other negligent party. The Law Offices of Pius Joseph can help. Contact us for a free consultation with a truck accident lawyer in Ontario, California.
Understanding Truck Accidents in Ontario, California
Operating a commercial truck requires specialized training and skill. Truck drivers must attend training programs and apply for commercial driver's licenses to drive a large truck. However, the complexities of commercial trucks and their operation can quickly lead to accidents if drivers or other parties involved with the trucking industry act negligently. Some of the most common causes of truck crashes in San Bernardino County include:
Speeding

Tailgating

Turning or changing lanes without signaling 

Failing to check mirrors and blind spots

Reckless driving

Disregarding traffic controls

Failing to yield the right of way

Failing to balance or secure cargo loads

Inadequate maintenance

Negligent hiring practices
Available Damages in Truck Accident Claims
In a truck accident claim, you may recover compensation, or damages, for financial and personal losses stemming from the crash. Examples of truck accident damages include money for: 
Medical bills and rehabilitation expenses 

Costs of long-term care for permanent disabilities 

Lost wages/income or lost future earning capacity

Pain and suffering

Lost quality of life 

Vehicle repair expenses or reimbursement of your totaled vehicle's value
What to Do After a Truck Accident
Take these steps after a California truck accident to protect your rights to seek compensation:
Get the truck driver's license, insurance, and employer information.

Report the accident to the authorities. Request a copy of the police accident report in the days following the crash.

Have a doctor examine you for any injuries.

Follow your doctor's treatment instructions.

Keep all bills, invoices, and receipts for your medical care, vehicle repairs, and other expenses. 

Gather your pay stubs or income statements if you miss work or have reduced earnings while you recover from your injuries.
Finally, contact an Ontario truck accident attorney from the Law Offices of Pius Joseph. Our attorneys can help you hold every negligent party liable for the harm you suffered. 
How Do You Get Compensated for Your Injuries in California?
When you've suffered injuries in a truck accident, pursuing compensation begins with identifying the party(s) liable for your losses. Possible defendants include:
The truck driver

The trucking company

The truck's owner, if not the truck driver or trucking company

The cargo company that loaded the truck/trailer

Mechanics and repair shops

The truck manufacturer or third-party truck part manufacturers
In most truck accident cases, compensation comes from a negotiated settlement with the liable parties. However, if those parties don't agree to a fair settlement, you may need to take your truck accident case to trial, where a judge or jury will decide whether you can recover money. 
Get Help from Our Truck Accident Lawyer in Ontario, California
Always seek legal advice after a truck accident. The right lawyer can demand accountability and compensation for your injuries so that you can regain your health and rebuild your life. Contact the Law Offices of Pius Joseph today for a free consultation with a truck accident lawyer in Ontario, California.