Truck Accident Attorneys in Los Angeles, CA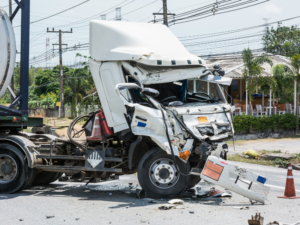 A truck accident can leave you with significant injuries and expenses. If someone else was responsible for the collision, you could receive compensation for those injuries and your financial losses. At the Law Offices of Pius Joseph, a Los Angeles personal injury lawyer will thoroughly investigate the accident, assess the liability of the potentially responsible parties, and demand the compensation you deserve. 
What Should I Do After a Truck Accident in Los Angeles?
Truck accidents can cause catastrophic injuries. Obtaining maximum compensation in these cases is key so accident victims get the medical treatment and rehabilitation they need to recover. Here's how to protect your rights after a truck accident in LA: 
Call 911 –

Getting medical attention is most important to protect your health and create a link between the crash and any injuries. 

Document the accident scene –

Take photographs of the location of the truck accident, the vehicles involved, and any road conditions that may have contributed to the accident, such as loose gravel or barriers. Photos of your injuries will also be crucial visual evidence in your truck accident claim.

Gather information –

Exchange insurance information with the truck driver and get the contact information for any witnesses. 

Report the accident –

Most auto liability insurance policies contain a notice provision requiring that you notify the company of any accidents within a specific timeframe. If possible, consult an attorney before speaking with an insurance adjuster.  

Contact a LA truck accident attorney immediately –

An experienced personal injury attorney in Los Angeles can begin investigating the truck wreck, assessing liability, and fielding calls from insurance adjusters while you heal. 
Common Truck Accident Injuries
Because of the size and weight of commercial trucks, drivers and passengers in smaller vehicles are at an increased risk of significant injuries or death. The speed at which the vehicles traveled at the time of the collision and the point of impact often determines the nature and severity of any injuries. Common truck accident injuries include:
Cuts and lacerations

Neck and back injuries

Burns 

Fractures 

Internal bleeding

Vital organ damage

Soft-tissue injuries

Amputation

Scarring and disfigurement
The most severe truck accident injuries can leave victims with long-term disabilities that change their lives forever. An experienced personal injury lawyer can demand justice and accountability from the at-fault party(s).
Types of Compensation You Can Receive for a Los Angeles Truck Accident 
The amount of compensation to which you may be entitled in a truck accident case largely depends on the nature and severity of your injuries. In California, injured people can pursue compensation for losses like: 
Past and future medical expenses 

Loss of future earning capacity 

Pain and suffering 

Mental distress  
If you were injured in a tractor-trailer collision in Southern California, a Los Angeles truck accident attorney can fight for the compensation you deserve. At the Law Offices of Pius Joseph, we will build a robust case for you, pursuing maximum compensation from all liable parties. 
There's no charge to learn your legal options. Contact us today for a free consultation.