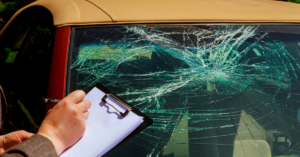 Reporting a car accident in California is required by law in certain circumstances. It's also an important step towards protecting your legal rights. Most car insurance companies require a police report before processing a personal injury claim. Here's what you need to know about reporting requirements in The Golden State.
How to File an Accident Report
Under California law, a car accident must be reported to the authorities if the accident involves:
Personal injury
Death
Property damage of an apparent value of $1,000 or more
If an accident involves injury or death, you are required to report the accident by contacting the local police (or the California Highway Patrol if the accident occurred on the highway). For accidents involving any of the above circumstances, drivers must also file an SR 1 Traffic Accident Report with the California Department of Motor Vehicles.
What to Do at the Scene of the Accident
At the scene of a car accident, call 911 if anyone appears hurt. Calling 911 will summon law enforcement and paramedics for anyone who might need medical attention. You should also call 911 if any driver appears intoxicated or flees the scene of the accident. Otherwise, you can directly report an accident to law enforcement by calling them through their main non-emergency contact number.
After you've contacted law enforcement, you should remain at the scene until an officer tells you that you may leave.
If law enforcement is not called for an accident, you should stay at the crash scene until you have exchanged insurance and contact information with the other motorists involved.
Other steps to take at the scene include:
 Take pictures or video. Photos of vehicle damage, injuries, skid marks, traffic controls at the scene, and environmental evidence like weather, lighting, traffic, and road conditions can provide powerful visual evidence of what happened.
 Talk to witnesses. Ask for a brief statement or their contact information if your car accident lawyer needs to reach them later.
Why Is an Accident Report Important?
Having an official report for a car accident is essential because it may document evidence that you can later use to claim compensation from the at-fault party. A police accident report also serves as a neutral, third-party source of evidence that can help you avoid disputes that can often delay insurance claims.
What's in a Police Report?
If the police respond to the scene of an accident, the officers will fill out a report containing information such as:
Contact and insurance information of parties involved
Evidence or details about the accident
Statements from the drivers and any eyewitnesses to the crash
Identifying information for witnesses
Whether any driver was cited or arrested for the accident
In some cases, the police report may contain the officer's opinion about what caused the accident or which driver was at fault.
How Long Do You Have to Report a Car Accident in California?
Accidents involving injury or death must be reported to law enforcement within 24 hours of the accident. The SR 1 Traffic Accident Report must be filed by drivers within 10 days of the accident.
In addition to reporting a car accident to the authorities, your auto insurance policy may also require you to report any accident you are involved in within a specific timeframe. This deadline may be as short as a few days, depending on your insurance provider. If you fail to notify your insurer promptly, they may deny coverage for the accident.
How to Get a Police Report for a Car Accident in California
You can request a copy of the police report by contacting the department that responded to the scene (e.g., local police, sheriff's office, CHP). The department's website will often have a form you can fill out or a phone number you can call to request a copy of the police report.
Contact a California Car Accident Attorney Today
If you've been injured in a car crash, contact the Law Offices of Pius Joseph today for a free, no-obligation consultation. Our Pasadena car accident attorney will review your accident claim, discuss your rights to compensation, and help you throughout the claims process.
We're ready to start now. Call or contact us for a free consultation.