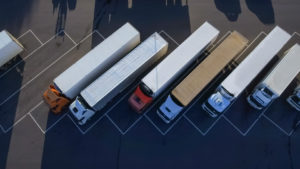 Truck drivers hit the road every day to transport goods nationwide. While many drive responsibly — as they're required to do by law — some may be unqualified for the job, poorly trained, or just plain careless.
The fact is, dangerous truck drivers are often on the roads because irresponsible trucking companies allow them to be. Corporations that cut corners can be penalized if their actions cause accidents that injure or kill others.
The Law Offices of Pius Joseph – Personal Injury Attorney understands that truck accidents cause some of the most catastrophic injuries. Attorney Pius Joseph has represented clients injured in truck accidents in Pasadena and throughout California for more than 25 years. Learn more about the nation's most dangerous truck companies below, and reach out to us today if you need help.
Common Companies Involved in Truck Wrecks
The U.S. Department of Transportation and Federal Motor Carrier Safety Administration require companies to report certain crashes. These are called DOT-Reportable Accidents. Collisions must be reported if:
There is a fatality.
There are injuries that require victims to receive medical treatment off site.
One or more vehicles must be towed away from the accident scene.
According to the data, the companies with the most collisions per 10,000 miles in the United States are:
Swift Transportation: 1,500 accidents over a two-year period
U.S. Xpress: 1,448 crashes over two years
Werner Enterprises: 960 collisions in two years
It's important to note that the number of crashes is not the only thing to pay attention to. A company's safety record is best calculated by looking at the number of crashes per vehicle miles traveled. For example, while Werner Enterprises had the fewest number of accidents above, its drivers also covered fewer miles than the other companies during the two-year period.
What to Do If I'm Involved in a Truck Accident
Knowing what to do if you're in a truck accident can help protect any injury claim you file in the future. You should:
Call 911: Report the accident immediately and don't leave until an officer investigates the scene of the crash, unless you need emergency medical care.
Take photos of the accident scene: Only take pictures if it's safe to do so.
Identify witnesses: Collect their names and phone numbers.
Get insurance information: Get the truck driver's auto insurance and employer contact information, as well as contact information for other drivers involved in the crash (if any).
Seek medical treatment: Even if you feel fine, seeing a doctor promptly will help protect your rights to compensation.
Contact an experienced truck accident attorney: A lawyer can help you file an insurance claim and push for maximum compensation for your injuries.
Contact a Skilled Pasadena Truck Accident Lawyer
To receive compensation after a collision with an 18-wheeler, you'll need proof to show that your injuries were caused by another's recklessness. This is not a simple process. A Pasadena truck accident attorney at the Law Offices of Pius Joseph – Personal Injury Attorney can handle every aspect of your case from start to finish.
Find out how we can help in a free consultation. Call or contact us today.