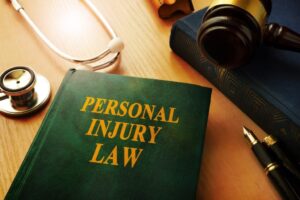 Steps to File a Personal Injury Claim
Many innocent Californians suffer injuries in accidents caused by another's recklessness. When that happens, victims may be entitled to file a personal injury claim against the responsible party or their insurance company to seek compensation. But unless you've been through the legal process before, you probably don't know where to start.  
Let the Law Offices of Pius Joseph help. Below, we explain what to generally expect when you file a California personal injury claim. 
What is the Process of a Personal Injury Claim? 
The personal injury claims process can get complicated. While most claims settle, some will go to trial. Much depends on the facts of the case, the strength of the evidence, and the willingness of the insurance company to negotiate. Here's what you should do: 
Hire a Personal Injury Attorney
You're not required to retain a lawyer to handle your personal injury claim. Every claim is different. A lawyer can give you personalized advice after reviewing your case.
In addition, an attorney can handle every aspect of filing a personal injury claim for you. That includes investigating the case, collecting evidence, determining liability, negotiating a settlement, and taking your case to trial if necessary. The majority of cases resolve with settlements.
Figuring Out Who to Sue
Some personal injury claims are straightforward, with one party clearly at fault. But many times, more than one party could be responsible for an accident. In those cases, you'll need help figuring out who to sue. 
Again, a lawyer can be a valuable asset. Identifying who should be held liable for an accident requires careful investigation. Be prepared for the other party's insurer to try to shift the blame onto you. An experienced personal injury lawyer will develop a strategic plan to counter those arguments and push for the best possible outcome for you. 
Filing a Claim for Damages
Once liability is determined, you need to gather solid evidence to show that another party was negligent and responsible for the accident that injured you. The insurance company will review your claim. The adjuster may make a settlement offer right away or deny your claim outright. Whatever happens, a personal injury attorney in California can defend your rights and advise on whether a settlement offer is fair. The first one probably won't be. 
Keep the Statute of Limitations in Mind
All states place a time limit on how long a person has to file a legal claim. These deadlines are called statutes of limitations and vary significantly.
In California, a victim has two years from the date of the accident to file a personal injury claim. The statute of limitations is shorter in cases arising from medical malpractice. Victims have only one year to sue for injuries due to medical negligence. 
Reach Out to a Personal Injury Lawyer in California
Filing a personal injury claim in California may feel overwhelming while you're trying to recover and get back to your usual routine. The Law Offices of Pius Joseph can help. Our legal team has 30 years of experience demanding maximum compensation for victims. If you or someone you love was hurt in an accident, call or contact us today for a free consultation.