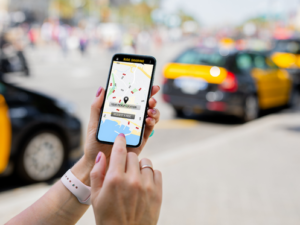 Rideshare services like Uber and Lyft are a part of contemporary life, especially in California. But what happens if you get injured in an accident involving one of these popular rideshare vehicles? Your options for pursuing compensation depend on the circumstances.
Need a nearby car accident attorney? Visit our office
Does Insurance Cover Uber and Lyft Drivers?
Uber and Lyft provide insurance coverage when their drivers are actively looking for rides or if they have accepted a fare. If the drivers are not logged into the app, they are not working for the rideshare company, and this coverage does not apply.
When a driver is online waiting for a fare, both companies provide the following liability coverage:
Bodily injury liability:

$50,000 per person and $100,000 per accident

Property damage:

$25,000 per accident
This coverage is triggered when the driver's personal insurance is exhausted. As a result, if a rideshare driver causes an accident while waiting for a fare, their own insurance coverage should apply first, followed by the additional coverage provided by the rideshare company.
Once a driver accepts a fare, both companies have $1 million in liability insurance as well as uninsured motorist coverage (UM), underinsured motorist coverage (UIM), and MedPay. If you suffer injuries in a car accident caused by an on-duty rideshare driver, either as a passenger or as an occupant of another vehicle, the company's $1 million policy should cover you.
Who Is At Fault for an Uber or Lyft Accident in California?
Determining who is at fault for a rideshare accident requires carefully reviewing the evidence. In most cases, it would be either the rideshare driver or another road user. An experienced personal injury attorney in Pasadena can review the facts of your case, identify the at-fault driver or other responsible parties, and determine what insurance policies may cover your losses.
Lyft Usage and Rideshare Accident Statistics in California
According to Transportation Network Companies, in one recent year, there were nearly 5,300 Uber accidents and incidents and almost 5,000 Lyft accidents in California alone. An independent study found that rideshare accidents accounted for a two to three percent increase in the number of people killed in U.S. car crashes over a five-year period. If you suffered injuries in rideshare accident, an Uber or Lyft lawyer from the Law Offices of Pius Joseph could help you file a personal injury claim for compensation. 
What to do After an Uber or Lyft Rideshare Accident
If you were involved in an Uber or Lyft collision in California, you should take the following steps:
Gather evidence

: Take pictures of the accident scene, your injuries, and any evidence in the surrounding area, such as skid marks, broken glass, and road conditions.

Report the collision

: Alert the rideshare company of the crash through their app. If you were driving, notify your insurer. Limit your statement to the time, date, and location of the crash. Do not comment on injuries or speculate on fault.  

Keep records

: Maintain records of your medical bills, pay stubs, lost wages, receipts, and anything else to help your claim. 

Contact an experienced Lyft or Uber accident attorney

: A skilled lawyer can help you understand your legal options, determine who is at fault for the collision, pursue compensation for your injuries, and communicate with insurance companies so you can focus on healing. 
Contact an Experienced Lyft or Uber Accident Attorney Immediately
You deserve maximum compensation after a car accident. But if your accident involved an Uber or Lyft driver, you might need a lawyer's help to navigate the insurance claims process. Contact the Law Offices of Pius Joseph for a free consultation with a proven Pasadena rideshare accident attorney.