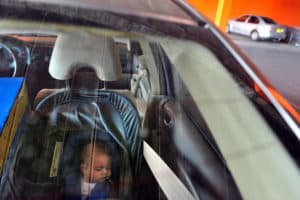 Many of us lose track of time, but what if you also have a child sitting in a car running or powered off in the blaring sun, where temperatures can quickly mount and cause heatstroke or even kill the child? Sadly, many parents who said it could never happen to them, lose children to heatstroke because they accidentally leave behind in vehicles.
The statistics don't lie either, since 1998 there have been 701 known reported cases of children who have died due to heatstroke and being trapped inside of a closed-up vehicle. This type of tragedy happens to normal people, even loving, kind, and attentive parents. Most of the time it happens when a parent mistakenly leaves a child behind, or when a child is left unattended and they gain access to the vehicle.
What Can You Do to Protect Your Children and Others?
Parents should get familiar with these tips. Then they should share them with their child care providers (babysitters, extended family, etc.) to make sure that the people taking care of their children are also aware of this danger and that they're being vigilant about preventing it. Here are five tips to follow to avoid heatstroke killing children, provided by the National Highway Traffic Safety Administration:
Double-Check Before Locking – Get in the habit of looking through the vehicle in case you left a little one behind, especially in the backseat and on the floor before walking off.
Mnemonic Device – This could be something as simple as a ribbon or stuffed animal you keep on your vehicle's dashboard that gets placed in your child's car seat to remind you it's empty. Then just move it back to the dashboard after you've placed your child in the car seat.
Routine Mandatory Check – When your child is under someone else's supervision and they are driving your child somewhere, it doesn't hurt to check in to speak with your child and ensure they are safe.
Store Keys Safely – It's easy to lock up our cars, but it's also easy for children to get into things, including cars. So, keep your vehicle keys out of the reach of little ones. Approximately 3-in-10 heatstroke fatalities occur, because an unsupervised child gained access to a vehicle.
Keep Windows Cracked – If it is nearly 60 degrees, your vehicle can easily reach 110 degrees if it is outside. All it takes is for the child's body temperature to reach 107 degrees for a fatality to occur.
Contact a Pasadena Wrongful Death Attorney at the Law Offices of Pius Joseph – Personal Injury Attorney
If you have lost a loved one because of the negligence of another party who was supervising your child or another family member, contact our Pasadena Wrongful Death Attorney at the Law Offices of Pius Joseph – Personal Injury Attorney to pick up the pieces of your shattered life, help you get justice, not to mention compensation for your loss. In business for nearly three decades, we give you our word that we'll build the strongest case possible to achieve your justice redemption and hopefully get you the maximum financial restitution available under the law.
We'll be more than happy to set up a free legal advice session, so we can start building your case. Contact us by calling (626) 397-1050 or by emailing us with the contact form on this page.
We have a central office in Pasadena, but we also assist clients in Los Angeles County, San Bernardino County, Riverside County, Orange County, San Diego County, and the rest of the state as well.