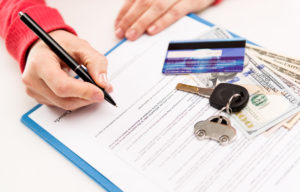 You're standing at the rental car counter stressed about whether to buy extra insurance. Take comfort. The customers around you are probably just as confused over the same question.
There's no doubt that car insurance is essential. You need coverage to protect yourself and others if an accident happens. But you don't want to pay for duplicate coverage. And for many drivers, their personal auto insurance policy and other sources already include provisions for rental car coverage.
Is Rental Car Insurance Necessary?
People often buy supplemental insurance protection that's unnecessary, according to Odysseas Papadimitriou, CEO of credit card comparison site, CardHub.com. It can add anywhere from $15 to $30 a day to the cost of a car rental. Is it worth it?
"The majority of consumers are covered by their own auto insurance, but they may not know it," he told CNN. "They may be spending extra money when they don't have to."
And those who aren't covered by their own insurance are likely covered by their credit card, he added.
It's best to review your insurance coverage with your agent and check out the terms of your credit card before you leave home.
Why Do Some People Consider Rental Car Insurance a Scam?
Rental car insurance gets a bad rap because the rental agent behind the counter has the job of encouraging you to buy supplemental insurance even if you don't need it. It's the ultimate up-sell. But because many people do not remember to check their auto insurance policy or credit card coverage before traveling, they're left wondering what they really need.
Some agents downplay the value of your car insurance or your credit card. Others will plant seeds of doubt, letting you know if you decline their offer, you're on the hook for all damages. They count on you to be uninformed about your coverage.
Because it's a sales pitch, many people call it a scam. But if you are uninsured or don't make a habit of using credit cards, you may be on the hook for damages that occur if you're in a wreck. In addition, credit card companies do place restrictions on coverage, including what types of vehicles are covered. There are loopholes that could expose you to added liability if you cause a wreck.
What Does Rental Car Insurance Cover?
Most rental car companies offer the following coverages:
Collision/Loss Damage Waiver: Costing as much as $20 a day, this covers theft or damage to the rental vehicle in a collision. If you don't have comprehensive or collision coverage on your personal car insurance, you may need this waiver.
Liability Insurance: This supplemental liability coverage will cost about $15 a day for $1 million in coverage, but it isn't necessary if your personal auto insurance policy provides adequate liability coverage.
Personal Accident Insurance: For about $5 a day, this covers medical bills for you and your passengers for injuries resulting from a car crash. Your personal health insurance or personal injury protection on your auto policy probably provides adequate coverage.
Personal Effects Coverage: This will cover any personal property that is stolen from the vehicle. However, your homeowner's coverage may also provide the same protection.
What Happens If I Have Been in an Accident in a Rental Car?
If the unthinkable happens, be prepared. It's important to follow the proper protocol to avoid confusion and unnecessary paperwork after an auto accident:
Make sure everyone is OK.
Exchange contact information and take photos.
Notify your car rental company.
Contact your own insurance company.
If someone was hurt or killed, talk to a skilled Pasadena car accident attorney right away.
When to Call the Law Offices of Pius Joseph – Personal Injury Attorney
If you have been injured in a rental car accident in Pasadena or anywhere in California, contact an experienced car accident lawyer at the Law Offices of Pius Joseph – Personal Injury Attorney for a free consultation.
We've been tackling the toughest catastrophic injury cases for more than 30 years. When the stakes are high, you can count on the Law Offices of Pius Joseph – Personal Injury Attorney to fight back aggressively and pursue maximum compensation for you. Call or contact us for a free consultation today.