Drunk Driving Truck Accident Lawyer in Pasadena, CA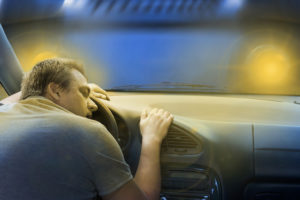 Driving an 80,000-pound truck on California roads is a huge responsibility. That's the reason the Federal Motor Carrier Safety Administration (FMCSA) has strict rules about drinking alcohol while on duty. When a drunk trucker causes a tractor-trailer collision, the potential for catastrophic injuries and death is high.
If you or someone you love was hurt in a crash caused by an impaired or drunk truck driver, a strong truck crash lawyer can fight to hold the responsible parties accountable for their recklessness. Contrary to what some people believe, it's not just the trucker who may be found liable.
For more than 30 years, the Law Offices of Pius Joseph – Personal Injury Attorney has helped Californians obtain compensation for injuries sustained in truck accidents. Attorney Pius Joseph has a proven track record of success in securing top-dollar verdicts and settlements on behalf of injured people. He is a member of the Multi-Million Dollar Advocates Forum and has been selected as one of the Nation's Top One Percent by the National Association of Distinguished Counsel.
Based in Pasadena, our law firm is committed to providing compassionate and tough legal services that push for maximum results for our clients. Call or contact us today for a free consultation with a dedicated drunk driver truck accident law firm.
Commercial Truck Driver DUI Regulations
California's Vehicle Code 23152(d) prohibits commercial drivers from operating a commercial vehicle with a blood alcohol concentration (BAC) of more than 0.04 percent. FMCSA regulations further state that commercial drivers cannot report for duty within four hours of consuming alcohol.
However, the 0.04 limit is only in effect when a driver is operating a commercial vehicle. When truckers drive their own personal vehicles, the legal limit is increased to 0.08 percent, the standard limit that applies to other drivers nationwide.
Truck drivers convicted of a DUI face serious penalties. These include an informal probation, a maximum of one year in county jail, a minimum $390 fine, which could go as high as $1,000, and completion of 36-month court-ordered DUI school.
A commercial driver will also have his or her driver's license suspended for a minimum of one year, even if they were not driving their commercial vehicle at the time. The same penalties apply if a commercial truck driver refuses to submit to a chemical test, such as a breathalyzer or blood test, under California's implied consent law.
Drunk Driving Truck Accident Statistics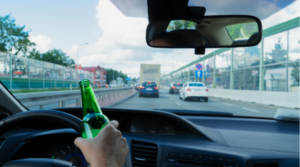 There's no argument that driving a truck is a tough job. Truckers spend long hours on the road, face pressure to meet delivery deadlines, and are worked hard due to national truck driver shortages. But there's never a valid excuse for drunk driving.
According to the statistics provided by the American Addiction Centers, combined results from 36 studies conducted between 2000 and 2013 show that substance abuse is one way that truckers cope with stress. Researchers found that 91 percent of truckers admitted to drinking alcohol on the job. In addition, truck drivers acknowledged frequently using other drugs, including amphetamines and cocaine, to combat fatigue — a common cause of truck accidents.
Can I Recover Damages from a Drunk Truck Driving Accident?
California personal injury laws allow victims to seek compensation for injuries and other losses sustained in an accident with a drunk truck driver.
Several types of damages are possible for accident victims:
Economic damages include losses that have an actual dollar value, such as medical bills, lost income, rehabilitation expenses, the cost of home renovations to accommodate a new disability, and more. Due to the fact that these losses have a concrete dollar value, they are fairly easy to calculate.
Non-economic damages cover subjective losses without an actual dollar amount attached to them. Examples include pain and suffering, emotional distress, disfigurement, and lost enjoyment of life. Non-economic damages are more difficult to calculate, but a drunk driving truck accident lawyer can determine what losses should be included in your claim.
In certain cases, hurt individuals can also receive punitive damages. Punitive damages are intended to "punish" the responsible party(s) for especially reckless conduct. To secure them, you must show that the truck driver acted with a conscious disregard for your safety and well-being.
Who Can Be Held Liable?
Unlike the average car accident, liability for a commercial truck accident can rest with multiple parties. Beyond the intoxicated truck driver, fault may also be placed on:
The truck company that hired the driver
The truck's owner
The cargo loading company
The truck's manufacturer, if defective parts contributed to the wreck
Maintenance companies, if the truck was not properly repaired as needed
Other drivers
It's important to identify all possible defendants in a truck accident claim so that you can pursue compensation from every possible source. An experienced truck accident attorney can conduct a thorough investigation in order to make sure that you are fairly compensated.
Spotting a Drunk Truck Driver
Motorists should learn how to spot drunk drivers so they can protect their own safety on the roads. Watch out for drivers who are:
Drifting in and out of lanes
Driving slowly
Driving without headlights
Tailgating
Sitting too close to the windshield
Braking erratically
Stopping for no reason
Driving on the wrong side of the road
Disregarding traffic signals and signs
Nodding off behind the wheel
Speeding
Have open containers of alcohol in the cab
Drunk drivers also have a tendency to take wide turns. Keep in mind that this is not necessarily a sign of drunk driving for a truck driver. Big rigs need a lot of space to turn, which sometimes requires the driver to swing wide (even into another traffic lane) in order to complete the maneuver safely. Regardless, if you suspect that a trucker is driving drunk, you should slow down, keep your distance, and contact law enforcement right away.
How Can a Truck Accident Lawyer Help Me?
You are not required to work with a truck accident lawyer in Pasadena, CA after being hit by a drunk truck driver. However, truck accident claims are complex, involving a mixture of both federal and state laws. They also require a detailed investigation and the collection of strong evidence, some of which can be difficult for a private citizen to obtain without legal help.
In addition, truck accident claims may involve negotiating with multiple insurance companies in order to reach a full and fair settlement. In these types of high-stakes claims, you can guarantee that adjusters and corporate counsel will be looking for any reason to minimize their own portion of fault for the wreck. A truck accident lawyer can handle these negotiations for you and spot tactics that are commonly used to deny victims the compensation they are owed.
A lawyer will also accurately evaluate your claim. You may understand that you deserve compensation for your medical expenses, but it is more difficult to calculate non-economic damages such as pain and suffering. An attorney knows how to put an appropriate value on these types of losses.
Finally, a good attorney will be able to identify whether it's wise to take your case to trial. The majority of truck accident claims result in settlements. That's because corporations don't want to risk a trial, where a judge or jury might order them to pay more than what you are demanding. However, if their insurers refuse to pay a full and fair settlement to you, your lawyer can advise on whether a truck accident lawsuit is the next best step.
Why Choose a Truck Accident Lawyer at the Law Offices of Pius Joseph for My Claim?
At the Law Offices of Pius Joseph – Personal Injury Attorney, we understand that injured individuals face tremendous physical, financial, and emotional hardships after being hit by a drunk truck driver. The injuries that people suffer in truck accidents are often catastrophic, leaving survivors with lifelong disabilities that can affect their ability to work and enjoy life the way they once did. We won't let that injustice go unpunished.
If you've been hurt in a truck accident caused by a drunk driver, reach out to our truck accident lawyer in Pasadena, CA as soon as possible. Truck companies are not required to keep certain documentation indefinitely, but Attorney Pius Joseph can send a spoliation letter right away to prevent critical evidence from being destroyed or erased.
In addition, we can begin our own investigation immediately. Investigators from the truck company will have likely called teams to the scene before the vehicles were even moved. We don't want them to have any more of the upper hand than they already do. When you hire the Law Offices of Pius Joseph – Personal Injury Attorney, you get a truck accident lawyer who will get to work right away.
Take comfort in knowing that you will have minimal disruptions to your life as your case proceeds. Our team can do the majority of the legal legwork for you so that you can focus on recovering from your injuries and rebuilding your life.
Call or contact us today for a free consultation. There's no fee unless we win your case.