Pasadena Jackknife Truck Accident Attorney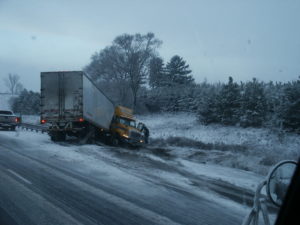 Large commercial trucks are composed of a cab (where the driver sits) and a trailer. Jackknife truck accidents occur when the cab folds in towards the trailer in a V-shaped angle, often due to sudden changes in speed.
Though jackknife accidents are relatively rare, they have the potential to cause serious harm. Jackknifes often happen suddenly, giving other motorists little time to react to avoid a collision. Cars may get pinned in the folded space between the cab and trailer. Others may be struck by the trailer as it swings wide across multiple lanes. Jackknifed trucks are also more likely to tip over in a rollover accident. Any of these circumstances could result in serious injuries or death.
At the Law Offices of Pius Joseph – Personal Injury Attorney, our Pasadena truck accident attorney has seen firsthand how devastating jackknife accidents can be. While these collisions are not always the trucker's fault, many times there is a party who can be held liable for the crash. If you've been hurt, you need an experienced truck accident lawyer who can unearth the truth and make sure any liable parties are held accountable for their negligence.
To learn more about how we can help, call or contact us for a free consultation.
Common Causes of Jackknife Truck Accidents
Jackknife accidents happen for a variety of reasons. They are especially common when a tractor-trailer or 18-wheeler is traveling at high speeds and needs to brake suddenly. With little time to stop, the trailer may swing out wide and continue moving forward to the cab due to the swift change in momentum.
The most common causes of jackknife accidents include:
Inclement weather
Poor road conditions
Driver error
Failure to brake properly
Defective parts or vehicle systems
Poor maintenance
System or equipment failure
Overloaded or improperly loaded trailers
Untrained drivers
Other drivers
Animals or other obstacles in the roadway
If you or a loved one was hurt in a jackknife truck accident in California, it's important to identify the cause(s) of the crash. The ability to obtain compensation will hinge on whether you can prove that the responsible parties were negligent. The best way to do that is by contacting an accomplished lawyer with a proven history of handling commercial truck accident claims.
Injuries Caused by Jackknife Truck Accidents
Anyone involved in a jackknife truck accident could suffer serious injuries. Big rigs may slide into other cars, roll on top of them, crash into pedestrians or bicyclists, or collide head-on with another vehicle. Whatever type of injury you sustain, you should always seek medical treatment to protect your health and any potential legal claim.
Cases involving a truck accident injury or fatality typically result in higher medical bills than those of a small vehicle crash. It's difficult to avoid serious injuries when you're up against a vehicle whose weight and size are more significant than yours. While some accident victims are fortunate and walk away with minor cuts and bruises, others require long-term treatment and live with permanent disabilities.
Examples of injuries that can happen when a truck jackknifes include:
You should not be held financially responsible for medical bills incurred as a result of a truck accident caused by someone else. California families often face additional hardships because truck accident victims typically cannot work for a period while they recover from their injuries. The combination of unexpected medical expenses on top of lost income can place everyone's wellbeing in jeopardy.
Who Can Be Held Liable in a California Truck Accident Claim?
California is a fault state when it comes to motor vehicle accidents. That means if you are injured in an accident, you must prove that someone else's negligence caused the accident to secure compensation.
The parties that could potentially be held liable in a jackknife accident include:
The truck driver
Trucking companies
Vehicle parts designers and manufacturers
Third-party maintenance companies
Cargo loaders
State or local governments
Other drivers, including yourself
Once all the possible defendants have been identified in a truck accident claim, it will be necessary to collect evidence to prove negligence. The type of necessary evidence will vary based on who is being held at fault for the crash.
Examples of evidence could include:
The truck driver or other motorists' own admission of fault
Traffic violations cited in the police report
Location of the vehicle damage
Medical records
Proof of lost income
Witness statements
Expert testimony
Evidence collected at the scene
Black-box recorders
Truck driver logs
Background checks and training records
Maintenance schedules and trip logs
An experienced truck accident lawyer will collect all the evidence necessary to build a strong claim for compensation for you. That claim will be presented to the insurance company(s) of the liable party(s) to reach a settlement. If no agreement can be reached, the case may move to trial.
Damages in California Truck Accident Cases
The compensation you collect in a successful jackknife truck accident claim is called damages. Damages refer to losses incurred as a direct result of an incident. There are three main categories of damages available to accident victims.
Economic damages refer to accident-related expenses that can be calculated. This includes reimbursement for costs such as medical care, rehabilitation, property damage, any private nursing services or aides to assist in the tasks of daily living, and renovations to your home that were necessary to accommodate your disability.
Noneconomic damages are awarded for losses that you can't put a price tag on. This damages include pain and suffering, mental distress, loss of affection or companionship, and physical disfigurement.
Punitive damages are awarded only in cases where the conduct of the at-fault party was grossly reckless. For example, if a trucking company deliberately falsified records to hide their liability in a jackknife accident, a judge or jury may decide to award punitive damages to an accident victim to punish the company for its misconduct. Punitive damages are rarely awarded in California, but it is possible.
Wrongful Death Truck Accident Damages
If you lost a loved one in a jackknife accident, you have our deepest sympathies. The untimely death of someone close to you is an unthinkable tragedy, made worse by knowing that it could have avoided if someone else had just been more responsible.
You shouldn't have to struggle financially in the wake of this tragic loss. Your family could be eligible to seek compensation through a wrongful death action. Compensation could cover final medical bills, funeral and burial expenses, loss of future earnings and support, and emotional support.
Do I Need to Hire A Truck Accident Lawyer?
Hiring a jackknife truck accident lawyer is never required, but the Law Offices of Pius Joseph – Personal Injury Attorney highly recommends that you consult with one after being injured in a commercial truck accident.
Truck accident claims are more complicated than traditional car accident claims. Depending on the number of parties involved in the claim, you may be dealing with multiple insurance companies to reach a settlement. Truck companies are often covered by multiple insurance policies, with trained adjusters who can make negotiations stressful and confusing.
The biggest sticking point in any truck accident claim surrounds fault. Insurance companies will try to minimize their own policyholder's degree of fault in the case. Typically, that means that they will try to shift the blame onto you or any other involved parties. The less fault they bear, the less money they must pay.
A jackknife truck accident attorney can help by pushing back when an unfair portion of fault is being assigned to you. In California, you can still recover damages even if you are partially responsible for the wreck. But you want your percentage of fault to be correct, because your total award will be reduced by however much fault you are assigned.
Having an experienced jackknife truck accident attorney to handle your case will ensure that you're treated fairly and have the chance to claim the maximum amount of compensation possible in your case.
When to Contact a Lawyer After a Jackknife Accident
After a jackknife truck accident, it is essential to contact an experienced attorney as soon as possible. Your California jackknife accident lawyer will be a crucial advocate for you and your injury claim.
Remember that the truck driver, the trucking company, and others' insurers will all be working to shift blame for the crash away from themselves, so you'll want to have a knowledgeable lawyer on your side to gather vital evidence and build a strong case for you.
You can assist your attorney by following these steps right after a truck accident:
Take as many pictures as possible right after the crash. Photos of the jackknifed truck, your vehicle, your injuries, and any other photos of the scene can help your case tremendously.
Get the names and contact information for any eyewitnesses. Their unbiased testimony can add value to your claim.
Get medical treatment as soon as possible. Never refuse an ambulance ride if it's recommended. You never want to have any gap in medical treatment after an accident. Insurance adjusters may argue that your delay proves that you are not as hurt as you claim.
Do not give a statement to the insurance company. Politely decline to speak with them and refer them to your truck accident lawyer.
If you are unable to take pictures and if you have serious injuries, immediately contact a truck accident attorney ,since an investigation team must go the location and preserve the evidence and if possible even inspect the truck and download the data from the truck's data recorder.
How Can the Law Offices of Pius Joseph – Personal Injury Attorney Help Me?
Pasadena attorney Pius Joseph has the knowledge, resources, and courtroom experience to advocate for you effectively and fight for the compensation you deserve.
When you hire us, our dedicated legal team can begin investigating your jackknife truck accident case immediately. We'll obtain the evidence necessary to show why you deserve full and fair compensation for your injuries.
We will make sure that an investigation team, if necessary, will soon be in action to preserve the necessary evidence.
Our goal is to alleviate your burdens during this tough time. We will handle all the legal aspects of your truck accident case so you can focus on recuperating from your injuries. Much of the legwork can be done with little involvement from you. We'll
take over all communications with the insurance company, represent you during settlement negotiations, and advise you on whether to take the case to trial.
We know you don't want your case to drag on unnecessarily, and we don't either. Our team of legal professionals dedicates their time and attention to ensure efficiency and accuracy. We'll be here from case open to case closed.
Demanding Justice for California Truck Accident Victims for Over 30 Years
Attorney Pius Joseph has represented more than 1,000 California clients in injury claims over the past three decades. He understands how much is at stake when accident victims walk through his door. He knows the law and fights aggressively for his clients each time, every time.
Our law firm knows that many deserving people fail to seek legal help because they worry that they can't afford a lawyer. We represent truck accident victims and the families who've lost loved ones in jackknife crashes on a contingency fee basis. This means you won't pay any upfront costs for us to work on your case. We only get paid if recover compensation for you.
Let us help you on the path to recovery. Contact the Law Offices of Pius Joseph – Personal Injury Attorney today to schedule a free, no-obligation consultation.