Truck Accident FAQs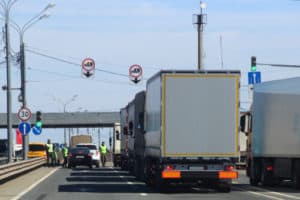 Truck accidents often lead to some of the most catastrophic injuries. It's easy to understand why. Commercial trucks are massive compared to the standard passenger car. When a collision happens, the results can be disastrous. 
Truck accident victims often sustain injuries with permanent consequences. Ongoing medical expenses can easily reach into the millions of dollars over the course of a lifetime. That's not to mention other hardships incurred if the injured is no longer able to work.  
If you or a loved one has been harmed in a truck accident, you may be entitled to financial compensation for your injuries, lost income and pain and suffering. Personal injury attorney Pius Joseph can explain your rights in a free consultation. 
In the meantime, consider these frequently asked questions about California truck accidents. 
What Are The Most Common Causes Of Truck Accidents?
Some of the most common causes of truck accidents include:
Truck driver distraction

Vehicle problems (e.g., defective brakes)

Being on unfamiliar roads

Unsafe behaviors (e.g., speeding, failure to yield)

Driving under the influence of alcohol or drugs

Overloaded trucks

Untrained or undertrained drivers  
Crashes can also be the result of negligent behavior from motorists in other vehicles, poor road conditions and other hazards.  
What Should I Do If I've Been Injured in a Truck Accident?
There are several steps you can take to protect yourself personally and legally after a truck accident. These include:

File a police report. All accidents involving commercial trucks should be reported to the police as soon as they happen. Failure to report a commercial truck accident could be an impediment to the claims process. 

Gather evidence.

Any evidence that you are able to gather at the scene should be collected. This includes photographs of the accident, the truck driver's name and insurance information, witnesses' names and anything else that you think is relevant.



Seek medical care.

Many people who are hurt in truck accidents suffer injuries that require emergency care. Even if your injuries are not severe, you still need to go to the doctor as soon as possible following the accident to check for any hidden injuries. Seeing a doctor also creates a medical record to show insurance companies that you took all necessary steps to prevent any unseen injuries from getting worse.



File your claim.

You should provide the trucking company and your insurance company with notice of the accident as soon as possible, preferably within the first 24 hours after the crash. Provide only basic information. Do not give a recorded statement or admit fault for the accident.

Talk to a knowledgeable truck accident lawyer.

Truck accident claims are usually much more complex than car accident claims because they involve both state and federal laws. An attorney with experience handling these types of claims will be able to build a claim taking all of these laws into account. 
Why Is A Truck Accident Worse than a Car Wreck?
Not all truck accidents are worse than car accidents. But in general sense, you can expect a crash involving two passenger cars to be less serious than one involving a tractor-trailer. Why? It's a basic law of physics. 
Large trucks can weigh up to 80,000 pounds, which is 20 times more than the average passenger car. This means that there may be 20 times more force involved in an accident between a passenger car and a large truck than one involving two passenger cars. This amount of force can lead to tragic damages and injuries to those within the smaller vehicle. 
What Do Truck Accidents And Car Accidents Have In Common?
Though they may differ in severity, truck accidents and car accidents have many similarities. Most auto accidents are entirely preventable and are caused by negligent actions. Drinking while driving, fatigued driving, distracted driving, speeding and aggressive driving are factors that contribute to both commercial truck accidents and standard two-vehicle accidents. 
What Should I Look for in a Truck Accident Attorney?
As you conduct your search for a truck accident attorney in California, make sure you consider:
Relevant experience.

You want the attorney working on your case to have experience navigating truck accident claims that are similar to yours.  



Case outcome. How many accident cases like yours has the attorney worked on in the past? What has been the outcome of those cases? 

Client experience.

Ask any attorney whom you're interviewing whether or not they can point you to past clients for testimonials and reviews. Hearing from others who have been in accidents like yours and who worked with the lawyer that you're considering can provide you with more insight into what the process may be like.



Fee structure.

A good California truck accident attorney will charge on a contingency fee basis, which means that there won't be any out-of-pocket fees on your part. In addition, the attorney will only be paid if your case is successful. Steer clear of any attorney who wants to charge you hourly or who requests a retainer fee. 
How Long Do Truck Accidents Take to Settle?
Truck accident claims may take longer to settle than the traditional car accident claim. First, there are more parties involved (e.g., the trucker, injured victim(s), trucking company, cargo loader, truck manufacturer, etc.). That means that liability can take time to determine after a thorough investigation.  
In addition, the fact that damages are frequently severe means that truck accident claims often have high values. As a result, insurance adjusters are often hesitant to pay out a victim's full claim amount without a fight.  

How Can Pius Joseph Help Me?
At the Law Offices of Pius Joseph – Personal Injury Attorney, we know that the time after a truck accident can be uncertain, both from physical, financial and emotional standpoints. You need someone on your side who will demand maximum compensation for whatever the future holds. 
Our skilled Pasadena truck accident attorneycan prepare your claim, handle all insurance matters and fight vigorously for you at the settlement table or in court. Since 1987, Pius Joseph has been providing customized legal services to clients throughout California. 
Contact us today to arrange your free consultation.