Pasadena Whiplash Injury Lawyer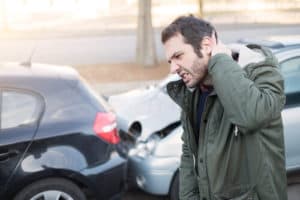 Whiplash is one of the most common types of injuries sustained in auto accidents. In fact, while whiplash can result from low-speed collisions, it can also arise even when the vehicle is not damaged by the impact of the crash.
Regardless of how an accident causes whiplash, however, those who have sustained this type of neck injury will usually require some ongoing medical treatment to recover.
At the Law Offices of Pius Joseph – Personal Injury Attorney, our Pasadena car accident lawyer has been helping people injured in traffic accidents pursue justice and compensation for nearly 30 years. Dedicated to protecting our clients' rights and interests in any legal setting, our lawyer can help you pursue all available legal remedies following any type of traffic accident that causes you whiplash and/or other injuries.
Symptoms of Whiplash
Typically arising within 24 hours of an accident or some trauma, whiplash can be marked by various symptoms, including (but not exclusive to):
Neck pain and stiffness, which may intensify with movement
Headaches, which commonly start at the base of the skull
Limited range of motion in the neck
Increased sensitivity and/or tingling in the shoulders, upper back and/or arms
Dizziness
Fatigue
Concentration and/or memory problems
Sleeping issues
Sensory issues, including blurry vision and/or ringing in the ears
Irritability, depression and/or other mood changes.
Whiplash injuries and their symptoms tend to be more severe if or when:
Collisions occur at higher speeds.
Vehicle occupants were not wearing their seatbelts and/or had their heads positioned more than a few inches away from the head rest at the time of impact.
Injured people have prior whiplash, neck and/or back injuries.
Recovering from Whiplash
The treatments for whiplash will vary according to the severity of the injury (among other factors). Generally, however, physical recovery from whiplash injuries can include some combination of:
Physical therapy
Medication
Pain management
Use of neck braces, foam collars or other aides.
Financial recovery for whiplash injuries caused by car accidents can include compensation for medical bills, lost wages, and emotional suffering.
Contact the Law Offices of Pius Joseph – Personal Injury Attorney
If you have sustained whiplash or other injuries in an auto accident, contact a Pasadena car accident lawyer at the Law Offices of Pius Joseph – Personal Injury Attorney for vigorous representation and effective legal advocacy. Since 1990, our lawyers have been going the extra mile for clients, working diligently to protect their rights, advance their interests and bring their cases to the best possible resolutions.
To schedule a free initial consult with an experienced Pasadena car accident lawyer today, contact us by calling (626) 397-1050 or by emailing us via the contact form on this page.
From offices based in Pasadena, we provide superior representation and service to injured people throughout Los Angeles County, San Bernardino County, Riverside County, Orange County, San Diego County and the state of California.